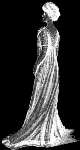 Dresses
basic patterns: princess dress, empire dress

Dresses in the sense that a gown was made "in one piece" from throat to toe were not all too important back then. Even ball gowns tended to be made up of skirt and taille. In 1908, only the two kinds of dresses for which the patterns are listed above were of any importance.
The princess dress is very complimenting for a beautiful figure.
The make-up of a princess dress is similar to that of a taille in its upper part and a skirt in the lower. Refer to the taille and skirt pages.
In addition to that you have to look carefully if the hips and shoulders aren't too asymmetric. If they are, a bit of lining or stuffing will have to do the job.
As with tailles, the lining is made first and carefully fitted and stiffened. The upper cloth can be cut from the same pattern (normal), or span more than one part of the lining and be draped in folds or in waistcoat style like a garniture. The latter is a job for well trained seamstesses only. What is to be avoided above all is the showing of the whalebone through the upper cloth.
The empire dress was invented in England around the end of the 18th century and became fashionable as Directoire (and later Empire) fashion after the French Revolution. They were the first signs of the reformed fashion and got their chance on the continent when French fashion designers were busy guillotining or being guillotined, so that the ladies reverted to English fashion journals. As the revolutionaries declared the ancient Greek democracies their shining example, the dresses that were presumably modeled on ancient Greek dresses were bound to be a success.
As it had a loose waist, it returned (around the turn of the century) as result of the reform movement, but required a corset underneath. A fine study in the ability of cultures to absorb subcultures, indeed!
Other traits that distinguish a 20th century Empire dress from a genuine one are a waistline 3-5 cm below the breast instead of immediately under it) and a not-quite-straight waistline with a tip up either in the back or front. In keeping with the ideals of the Empire fashion, an Empire dress does not bear garniture except for a bit round the hem and a little bit on the taille part. For the lining, a princess shape is ideal. High corsets are to be avoided. No bonig of the dress! The fabric should be light and soft.
Content, layout and images of this page 
and any sub-page of the domains marquise.de, contouche.de, 
lumieres.de, manteau.de and costumebase.org are copyright (c) 1997-2022 by Alexa Bender. All rights
reserved. See Copyright Page.

GDPO




This work is licensed under a Creative Commons License.